United Kingdom-Armenia Business Forum in London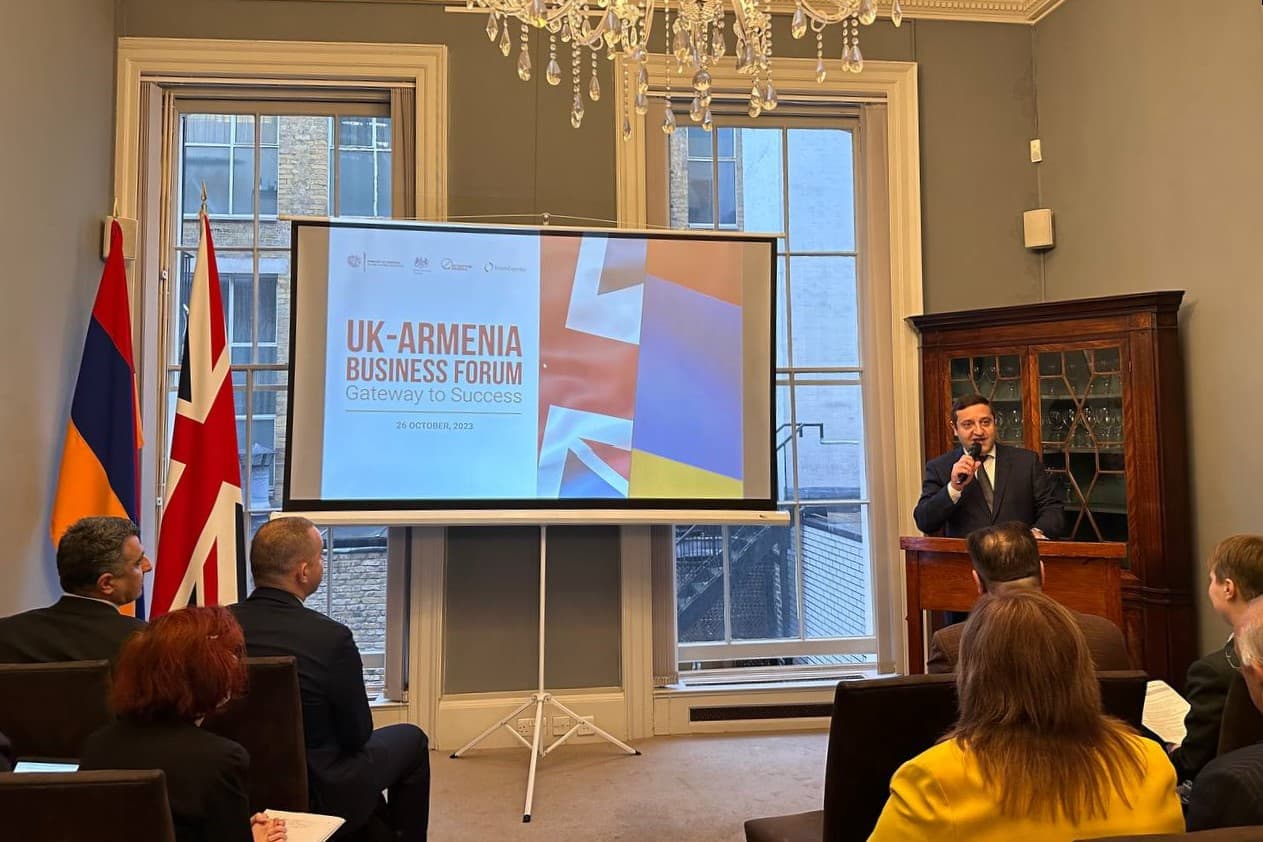 On October 26, 2023, the United Kingdom-Armenia Business Forum was held in London, UK.
The event was organized by the collaborative efforts of Enterprise Armenia, British Expertise International, the Embassy of the United Kingdom in Armenia, and the Embassy of the Republic of Armenia in the United Kingdom.
At the commencement of the event, opening remarks were presented by Vahan Kerobyan, the Minister of Economy, and The Earl of Minto, Minister of State in the Department for Business and Trade. Additionally, welcoming messages were extended by H.E. Mr. Varuzhan Nersesyan, the Ambassador of the Republic of Armenia to the United Kingdom, John Gallagher, the Ambassador of the United Kingdom to the Republic of Armenia, and Levon Ohanesyan, the CEO of Enterprise Armenia.
During the conference, Aram Vardanyan, the Investment Director of Enterprise Armenia, and Emma Thomas, Head of Global Business Origination, delivered informative presentations to the event's participants, shedding light on the trade, economic, and investment prospects between Armenia and the UK. Arvind Ramakrishnan, Director of the "Fitch Ratings," an international sovereign analytical group, also addressed the audience.
Following the presentations, a panel discussion focused on investment opportunities in the sectors of infrastructure and logistics took place. The panel included Kristine Ghalechyan, Deputy Minister of Territorial Administration and Infrastructure of Armenia; Rafayel Gevorgyan, Deputy Minister of Economy of Armenia; Charle Malas, Advisor to the Minister of Economy of Armenia and Stephen Kimmett, CEO of Roughton Group.
Later on, a panel discussion titled "Armenia: The Silicon Mountains" took place. A video message from Robert Khachatryan, the Minister of High Tech Industry of Armenia, was shared. Additionally, the panel featured Armand Pinarbasi, International Representative and Business development director of SoftConstruct; Chris Moore, Technology Specialist, Science & Technology Directorate of the Department for Business and Trade; and Yervand Sarkisyan, Co-founder and Partner at Granatus Ventures.
The event also showcased success stories from Armenian companies such as Amber Capital, Picsart, and Wigmore Medical Center to provide insights for UK business circles.